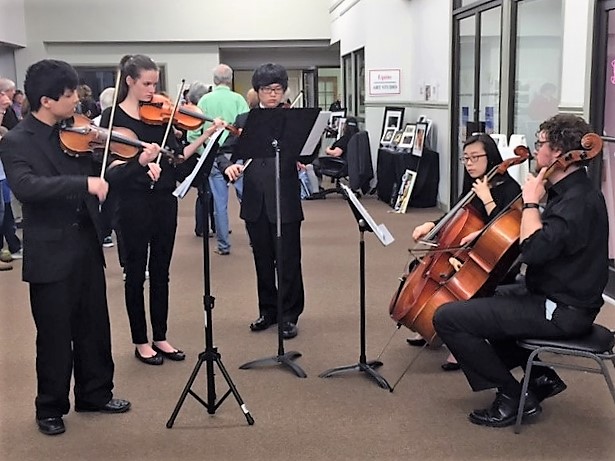 Union Symphony Youth Chamber Players Vivace Strings is a chamber ensemble of talented Union Symphony Youth Orchestra students. The ensemble meets prior to Union Symphony Youth Orchestra rehearsals to rehearse a repertoire of chamber music.
2016–2017 Season
Fall Art Walk
Friday, October 14, 2016, 7 pm
Lobby at Symphony Office, 201 N Main Street
Vivace Strings will perform "Jesu, Joy of Man's Desiring" by J.S. Bach and "Ode to Joy" by L. Beethoven.
TaleSpin
November 19th, 2016 7 PM
Marvin Ridge High School
Valentine's Gala
Saturday, February 11, 2017, 6–7 pm
Rolling Hills County Club 2722 W. Roosevelt Blvd, Monroe
Turn, Turn, Turn: A Trifecta of Change
March 12, 2017
Marvin Ridge High School
Spring Art Walk
April 14, 2017, 7 pm
Lobby at Symphony Office, 201 N Main Street, Monroe
Red Cross Ball
May 6th 2017, 6 PM
Rolling Hills Country Club 2722 W. Roosevelt Blvd, Monroe (projected)
Waxhaw Spring Festival
May 20, 2017
---
Violin 1:
Julia Chandler
Sarah Austin
Violin 2:
Talon Stanley
Erin Tennis
Viola:
Rajini Guiditi
Rebecca Grant
Cello:
Hannah Choi
Jessica Meyer