Under the direction of Sabrina Howard, principals of the Union Symphony Youth Orchestra performed at the Debutante Cotillion of the Union County Alumni Chapter of Delta Theta Sorority on Sunday, April 22.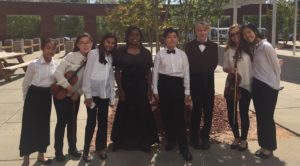 USYO & Prelude JSO members recently participated in the Jr. Western Regional Orchestra along with Amanda Turner, Prelude Director.
(l to r) Sophia Kuncoro, Claire Ryu, Sarayu Adala, Gisele Maindron, Tae Bark, Josh Harris, Kendall Pixley, Winnie Wang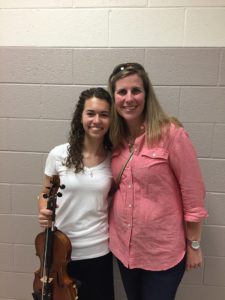 Olivia Cansler with prelude director, Amanda Turner
Conducted by Dorian Neuendorf, the Union Symphony Orchestra & Union Symphony Youth Orchestra present Pops on the Plaza. Join us on 
Sunday, May 13 at 6:30 PM 
at the Main Street Plaza in downtown Monroe.
Opening performance by Union Jazz Youth
USYO & Prelude JSO auditions will be held on
May 19
(violins) and
May 20
(all other instruments) at Marvin Ridge High School. See
audition requirements.
Complete an
audition application
and mail a $10 audition fee to Union Symphony, 201 N. Main Street, Suite 109, Monroe, NC 28112, postmarked by
May 12.
Audition fees received after
May 12
and those at the door will require a fee of $15.
photo: Donna Tennis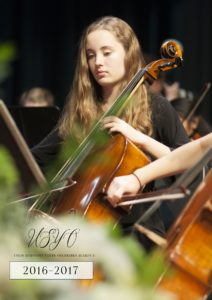 Reserve your copy of the 2017-2018 USYO yearbook today. The cost of the yearbook is $75. Mail a check or money order payable to Union Symphony to 201 N. Main Street, Suite 109, Monroe, NC 28112. The deadline to order is May 10, 2018. A special thank you to Enid Osbourn for the creative energy and talent she gives in putting the yearbook together to capture the memories of another successful year.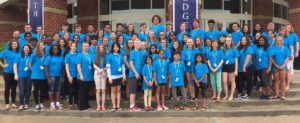 Music camp for the Union Symphony Youth Orchestra will be held at Wingate University from June 18-June 21. Students will check in on Monday and will be dismissed from camp following their concert on Thursday.