USYO members will return to rehearsal on Sunday, January 7, 2:30–5:00 PM following a holiday break. Students will begin preparations for their spring concert Musical Escapades which will be held on Sunday, March 18, 2018 at 4 PM at Marvin Ridge High School.
photo: Donna Tennis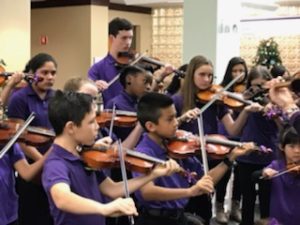 Allegro Strings ended the first half of their season with holiday performances at Novant Health Matthews and Plantation Estates in Matthews on Monday, December 18. In between performances, members and their families celebrated at a local restaurant.
Allegro Strings will resume their regular rehearsals on Monday, January 22, 2018, 4:30 PM at First Presbyterian Church in Monroe.