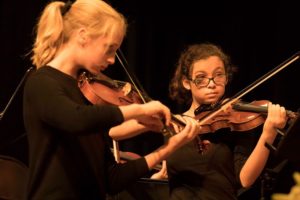 USYO & Prelude Junior Strings Orchestra will hold their fall concert, Notes of Plenty on Sunday, November 5, 2017 at 4 PM at Marvin Ridge High School. Overture by Allegro Strings.
There will be no rehearsal this Sunday. Rehearsals will resume on Sunday, October 15. Seating auditions will be held on this date.
Yearbooks for Season 8 have arrived and will be distributed soon!
Thank you, Enid Osbourn for making yearbooks possible again!